Two weeks ago, I started my second legislative session as State Representative for District 58 in Pawtucket. I'm excited to go back to work for the people of Woodlawn and Fairlawn! This year, I will continue my work from 2015 and advance issues that matter to our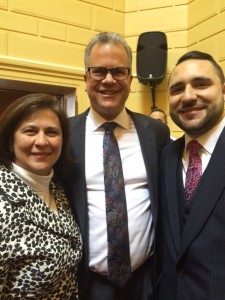 community and our city:
I will fight

 for a new law that will protect those who are victimized by wrongful arrests

I will continue to study the possibility of a Pawtucket/Central Falls train station, which would boost tourism and commerce

I have filed a bill that would ensure that "body works" spas are not offering illegal services
I am also honored to serve on some of the most important committees in the House. On the House Committee on Finance, I will make sure our $8.7 billion state budget is spent responsibly. On the House Committee on Veterans' Affairs, I will ensure that our state honors those who have done more than anyone else for our country. On the House Committee on the Environment, I will help Rhode Island prepare for the pressing environmental challenges we will face in the 21st century.
As my work continues at the State House, I value your feedback. Feel free to email me at reptobon@gmail.com if you have any questions, comments or concerns.
Let's make 2016 a great year for our district, our city and our state.